New Jersey's Retail Environment Offers New Opportunities
"Big Box" Retailer Bankruptcy in New Jersey and the Development of new retail sites – bringing new concepts.
Out With The Old.. In With The New
The large monopolistic stores that used to dominate the local market, are now being redeveloped into thriving sites, offering several tenants to the public.
Chapter 11 Bankruptcies
If you take the time to drive down a New Jersey highway and pay attention to properties around your area – you may notice how big-name retailers that were once a staple to our economy are now closing their storefronts or having huge sales. This is all an effort to consolidate operations in order to stay relevant in a market where half of consumer spending is now completely online, or diversifying spending with a number of brands.
Americans are spending more than ever on an abundance of different retailers, restaurants and services. The big box stores are struggling to maintain the monopoly that they once had, while smaller retailers are grasping the interest of the modern consumer.
We are familiar with chapter 11 bankruptcies when national corporations find themselves in a dire financial burden and need government relief. Popular corporations that have filed 11 include United Airlines, GM, Lehman Brothers, and K-Mart. A chapter 11 case begins with the filing of a petition with the bankruptcy court serving the municipality where the debtor has property or a business. A petition may be a voluntary petition, which is filed by the debtor, or it may be an involuntary petition, which is filed by creditors that meet certain requirements. 11 U.S.C. §§ 301, 303.
A Shift in the Consumer Market
The sales deficiency that large stores are facing causes discouragement – leading to consolidation and cut-backs. The e-commerce environment has certainly secured a spot in our consumer-driven economy and the retailers who cannot keep up are taking the hit. The preferences of the modern-day shopper have changed; we want more options, faster, easier, from the comfort of our own home or phone. The continuous changes in our market leave corporations scrambling for new ideas. As this happens, we are seeing new smaller businesses and services being established. It's common to see companies claiming that they are "reorganizing" – this is another way of saying "bankrupt"!
Don't be surprised if you notice that your own town has demolished a K-Mart (for example), only to replace it with a strip mall – with an abundance of smaller tenants – including retailers and restaurants.
Are these changes good? Are they bad? Who's to say. The free market will drive supply wherever there is demand.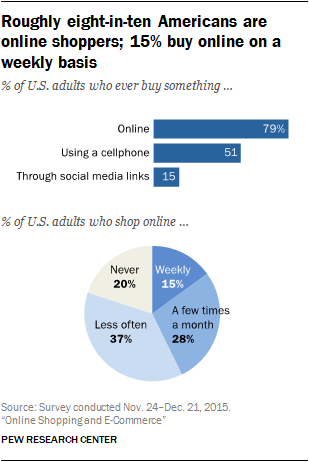 A new study from Pew Research shows how +/-80 percent of Americans are now "shopping online." This is a drastic change from just +/-22 percent back in 2000. Over half (51 percent) have also made a purchase from a mobile phone.
To emphasize, these numbers are from 2015… we can only imagine the current environment of our aggressive e-commerce economy.
The distinguishing factor of Chapter 11 Bankruptcy is that the debtor's assets are not sold off to compensate the creditors. Whereas
Chapter 7, or, "straight" bankruptcy, debtors eliminate their unsecured debts quickly by surrendering their assets. Personal loans and credit cards are common examples of unsecured debts. Chapter 11's are almost always used by companies. This makes sense, considering corporations would rather 'go back to the drawing board' rather than shutting down operations completely.
Chapter 11 bankruptcy allows for a plan to help keep the business active while being able to pay all their creditors over a period of time.

"Big Box"Retailers Have Announced More than 4,000 Store Closures so far This Year, According to an Analysis by Business Insider. This List is Expected to Grow in the Coming Months.

JCPenney has determined that it will close 18 full-line stores in 2019, including three locations previously announced in January. In addition, the company will also close nine ancillary home and furniture stores, enabling capital resources to be reallocated to locations and initiatives "that offer the greatest long-term value potential."
said Carter English, a spokesman for JCPenney.
The Trend Will Continue Into 2019
Retailers closed a record-breaking 102 million square feet of store space in 2017, then 155 million in 2018, according to estimates by the commercial real estate firm CoStar Group.
"This year we are predicting more of the same in the retail space," said Drew Myers, a CoStar senior consultant.
Going bankrupt may be detrimental at first, but as long as there is an effective reorganization plan, it can be beneficial for national corporations, while smaller tenants are taking advantage of the diverse nature of American consumer spending. Nonetheless, our consumer market is cutthroat and these changes in populated states like New Jersey are going to continue. Whether your a business owner, broker, tenant, landlord, or consumer – it is only up to you to keep up with these times. We are seeing smaller tenants gaining more popularity as the big boxes are struggling to keep up. While the market may discourage some large stores, it certainly serves as a beacon of opportunity for business owners, brokers, tenants and new brands – who seek to tap into local economies that were never touched before.